Feature story from Holocaust memorial sites
Feature story
This lesson package aims to make a feature story from Holocaust memorial sites. The Auschwitz-Birkenau Museum also offers virtual visits with a guide.
The article type reportage differs from, for example, a news article or news item, mainly by presence. The reporter uses all his senses to convey a sense of presence in sound, image or text. It can be about smells, sounds or visual impressions. These are interwoven with quotes from interviewees, stories from the site and fact-describing parties about the camp, the Holocaust or the chosen subject. There is more focus on images than in a regular standard/news article. Feel free to watch other people's stories on Mobilestories.se for inspiration!
Visiting a camp can be a transformative experience that far from everyone gets to experience. There is therefore great value in conveying the experience to others.
But once at home in the familiar classroom, it can feel empty and strange to report your experiences in the form of a written test. It is very important that students have the opportunity to process the impressions from the trip in alternative ways, both immediately after returning home and later. Telling others plays an important role.
(From the Live History Forum)
The articles published can become part of the Young Voices for Tolerance campaign and spread on social media with the hashtag #YoungVoicesforTolerance
Helena Trus, reporter at Expressen (formerly Aftonbladet) and author of the book "One kilo of sugar: grandma never forgets the price of her life" (Norstedts, 2019), about what is important to consider in a report: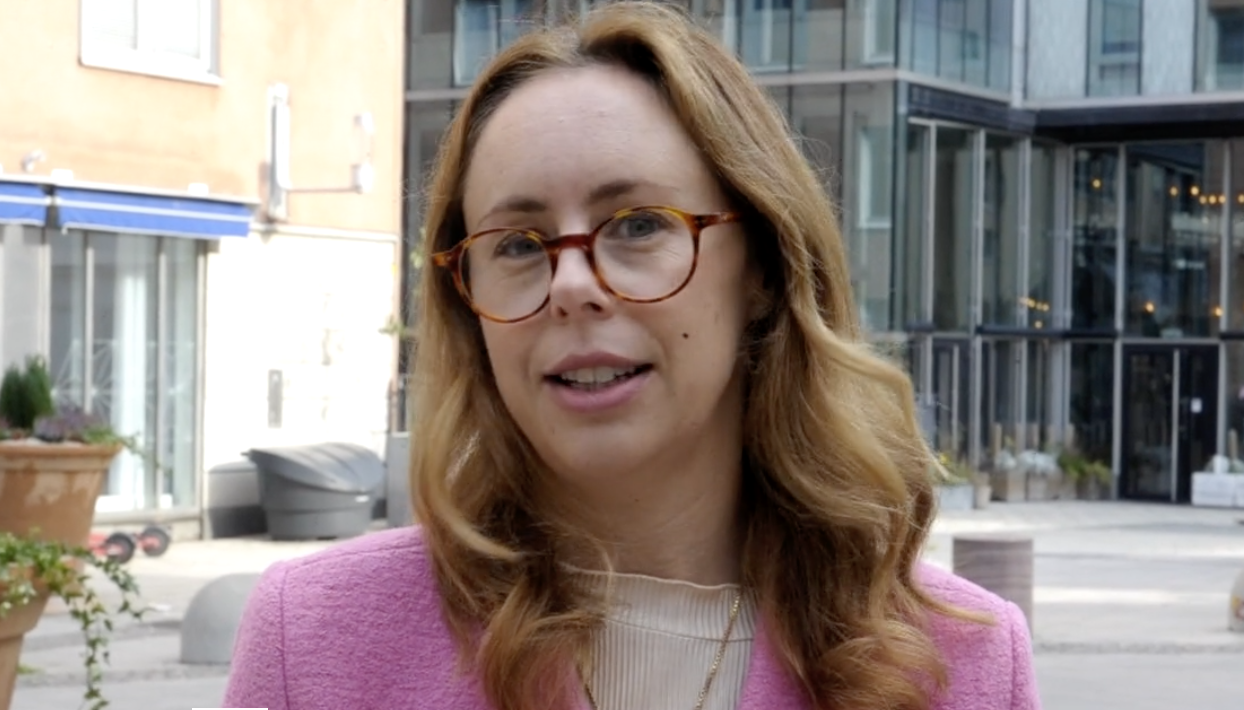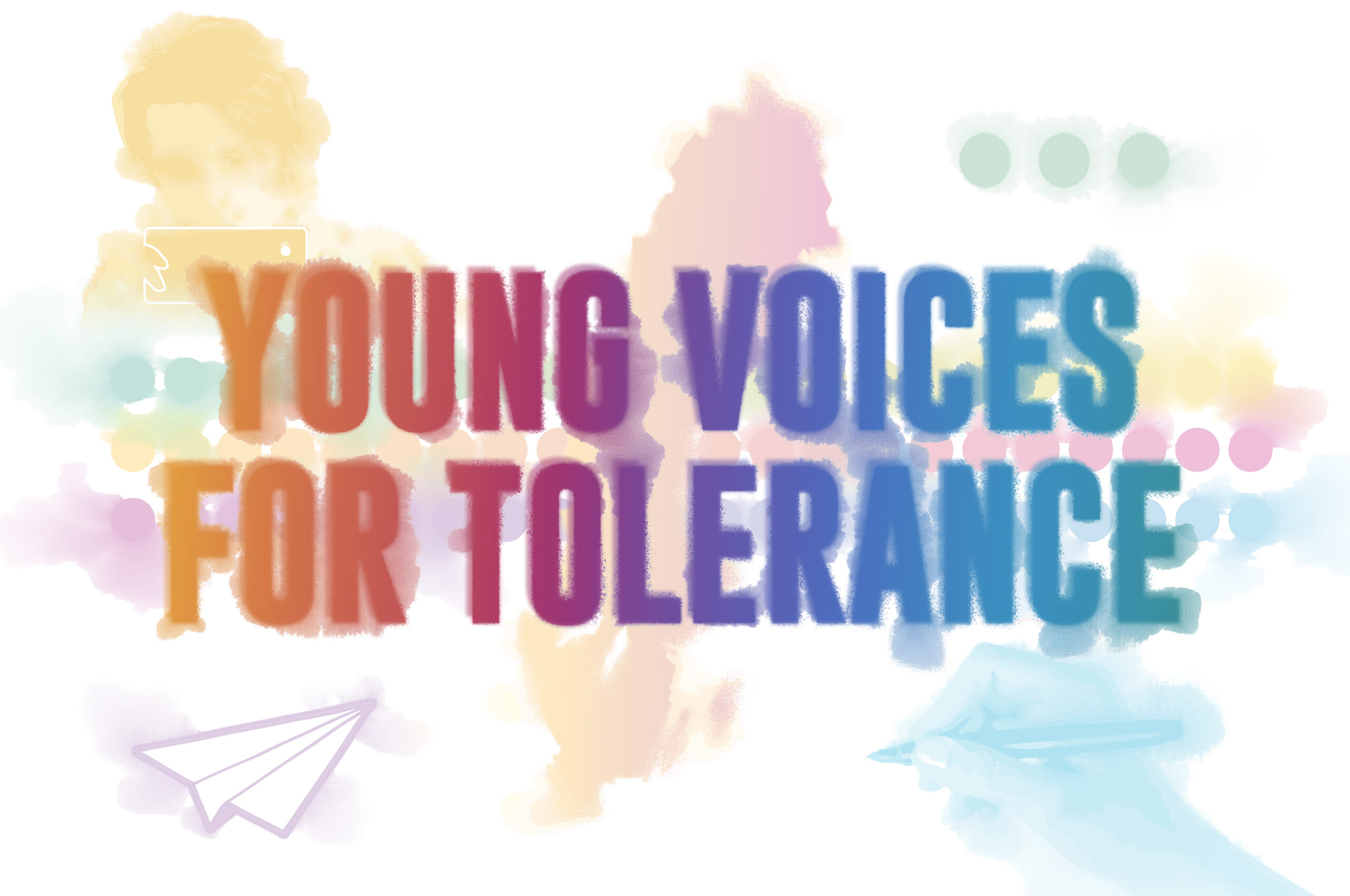 Discussion exercise: Who/what can be a credible source? Let students make suggestions. Write up on the board or in a common document.
example:
Expert.

If your source is an expert you have spoken to, such as a researcher, it should be clear what makes that particular person credible. The expert should have a special knowledge of exactly what they are speaking out about.

The case.

The case is an interviewee who is in some way affected by what you are writing about. It can be someone who has experienced an injustice or someone who has done something good and who can inspire others.

Witness.

A witness is someone who can corroborate what you're writing about. Ideally, you should collect more than one witness statement indicating that the incident you mention in your article has taken place.

Image.

An image, still image, or moving image, showing a something happening can also be a source. Keep in mind that images may have been manipulated and are not always true.

Document.

A document can be, for example, a written letter or email, notes from a meeting or a decision from an authority or from the government.

you.

Of course, you become a source when you post something online.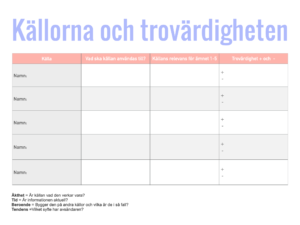 "Sources and credibility" is a model for creating structure in source auditing. When students search for information online, the classic criteria Authenticity, Time, Dependency, and Tendency should be used, in combination with checking what other sources say about the first source.
Give some suggestions for sources related to the topic, both good and some less good. Invite students to use the model below in groups to reflect on the relevance and credibility of the source in the context in which the source will be used. Then review what the students have come up with. Note, students don't have to put a negative if they can't find anything.
Here the template can be downloaded:
Feel free to have students read the help article "Source Criticism Methods" in mobile stories tool login mode: https://app.mobilestories.se/content/info_article_x_16812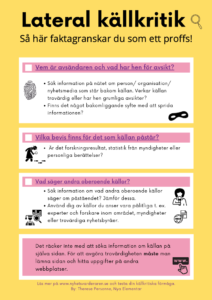 This is a guide for those who want to source-check like a pro. This poster was produced by Therese Personne at Nya Elementar with the aim of helping schools value digital sources. Print a copy and set up in the classroom! The poster is available to download here: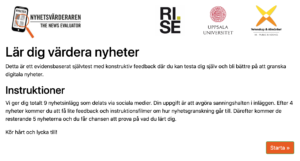 Here students can take a digital self-test developed by Uppsala University in collaboration with the research institute Rise and the association Science & Public.
In this exmament, students in high school or high school can sharpen their knowledge of media, source criticism and online laws!
Students can take the test up to 15 times. By explaining after each question, students can improve their performance and become more online smart every time they take the test! If they get 90 percent of the questions right, you can download a piece of evidence that they can put in their resume or share on social media.
Background
We all need to understand history in order to be able to see, reflect on and resist the racism and intolerance that exists in society. The Holocaust has happened once and can happen again, says Peter Kadar (1935–2020) in a video

clip

from EDUT:
"Thevaccination against this is that young people tell and that they do not let any form of anti-Semitism, racism or intolerance pass by."
At the Forum for Living History there are modules What was the Holocaust? and Anti-Semitism then and now and Antiziganism in history and today that can form the basis for further work. At the Living History Forum you will also find recorded testimonials from survivors, with associated classroom exercises. You can also find testimonials at the narrator group EDUT and at Eternal Eco. If your school wants visits, digitally or physically, from survivors, their children or grandchildren, you can register your interest via, for example, EDUT or Zikaron. In the "Resource Bank for Young Voices for Tolerance" you will find, among other things, a list of people available for student interviews.
Curriculum and Agenda 2030
Topics: Social sciences, history, image, Swedish and Swedish as a second language, English or other language teaching. 
UN Global Goals: 16 PEACEFUL AND INCLUSIVE SOCIETIESSupport for Teachers: Difficult Issues in the Classroom | Forum for Living History
Ethical rules for student reporters
If you haven't done so before, read "Student Publisher's Ethical Rules" in the mobile stories tool (in logged-in mode). Please also discuss what the various points mean. Put simply, they are about:
Be careful with their sources and never publish inaccuracies or contribute to the spread of rumors online.
Never violate anyone's copyright or the terms of use of free images downloaded from the web (preferably use your own images or illustrations!)
Avoid hurting or offending an individual or group in society.
From idea to finished article
This guide with exercises is about conveying the knowledge and impressions the students themselves get during a visit to a Holocaust memorial site to others who also need to learn more.
To get the most out of the trip to Holocaust memorial sites, some preparation is required. As a teacher, you can get help preparing students and support in the role of tour leader for the student group through the Forum for Living History has a comprehensive teacher guide for trips to Holocaust memorial sites.
Here you can also order or download travel guides and guides to Holocaust memorial sites in Poland.
Feel free to use the material "Background" in the pink tab above to give students the opportunity to read up on the Holocaust and anti-Semitism.
If your students make a physical visit to a Holocaust or concentration camp, they have a great opportunity to document and collect material that can then be used in a report. Decide in advance whether there should be a podcast, a video or a story in which text and image play the main role. Advise students that it is always possible to embed several different types of media in a written report, such as audio clips with, for example, environmental sounds that convey presence or a video clip with an interviewee.
Remind students to have a block or the note-taking feature on their mobile at your fingertips to take notes about their own impressions or stories conveyed on the site. Students may prefer to record small "notes" to support memory, or record what the wizard says.Breaking the text off with a short video clip in which the student reporter asks a friend a few questions, or films the friend's reactions can contribute to the feeling of presence. Be sure that students first make sure that the friend or interviewee wants to be in the report, even if it will later be published online.
Also keep in mind that the material can be difficult to see if the student records everything that is said. Better to dare to choose the most important thing!
Please note that it is not allowed to bring your phone in all places – therefore secure with pen and paper.
It is perfectly possible to make a report about the visit and about the camp as a whole, but it is also good if some choose angles that give variety to the class's work. Someone might want to focus more on a particular place that you visit during the trip, delve into what life in the camp could look like, in how the Roma or any of the other groups were affected, tell us about the art produced by prisoners at Auschwitz or about any other of the exhibitions that are both digitally and physically at the museum.
It may be possible to interview one of the people you meet on site, but it is also possible to weave interviews with, for example, Holocaust survivors, relatives, researchers and other experts who can be interviewed at home, physically or via link, in the report.In the Resource Bank for Young Voices for Tolerance there are tips on people who are happy to participate in interviews.
If students are given a virtual guided tour of Auschwitz, it is important that it is clear in the report that the students are not physically present. The feeling of presence can be a challenge in a report from a virtual visit. Then it is all the more important that the student gets their own reactions and feelings, or conveys the strong stories that they get during the visit. A virtual visit can, of course, also be interwoven with quotes from someone who has their own experiences of the horrors of the Holocaust.
Checklist for students before the visit:
Keep track of your phone's recording function. Try it before. Make sure that the interviewee or the person guiding you on site knows that you are recording.
Make sure your phone is charged – bring a charger as a precaution.
Make sure that the query battery is available to start from (but don't forget the follow-up questions!).
Make sure you have some prior knowledge of the person and subject through your research.
Practical tips for students during the interview: How to succeed with the interview
Feel free to use the recording function on your mobile phone to record the interview. Feel free to use two phones to secure, or record the meeting on your computer if the meeting is done via link.
If possible, choose a quiet place if you intend to use the recorded audio.
Feel free to ask the guide or interviewee follow-up questions. Let your own curiosity rule!
Tips for students when shooting stories:
Think about who's going to see the picture. What do you want the viewer to feel? Can you clarify the feeling you get on the site, for example by changing perspective or framing the place with a foreground?
Vary overview images and details. If people are in the pictures, take pictures of the person who also shows the environment around them but also tight portraits.
Take many pictures from several angles! A few steps aside can make your image stand out and touch deeply.

In the vast majority of article types on Mobile Stories, landscape formats are best, i.e. images taken horizontally as in the example below.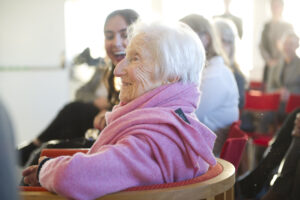 Horizontal image of Hedi Fried. Photo: Lotta Bergseth
Time to process the material in mobile stories publishing tools. Show students the help texts in the tool, both those below the small question marks and those below the (i) characters, or under "Content" in the main menu. Select the Reportage or News/Standard article article type, and it is a text-based article, otherwise the Podcast or Movie article type. Keep in mind that the Reportage template requires more images, so if there is only one image, it is better to choose News/Standard article. In both article types, it is possible to embed audio or movie clips according to the instructions in the tool.
Invite students to pay special attention to the title and preamble as well as image selection. In the first instance, the student should take their own pictures, for example during the visit or/and by their interviewees. If that doesn't work, the interviewee might be able to email pictures. If they want to use the museum's images, or other images posted online, they need to make sure that they do not violate copyright.Watch mobile stories' copyright movie (8 minutes) with students, or put it in a joint document. The film is mainly about images, but it works well to stick to the same rules when it comes to text, audio or video.
Follow the process in the peer review tool, check queries, and editor approval. Check with "Student Publisher's Ethical Rules" (Select the tool's main menu and then Content to find them). Students can publish on one or more of the sites on the Mobile Stories network and preferably on Young Voices for Tolerance. Tell students that the articles can be nominated for the Young Journalism Prize, by publishing them on the Young Journalism Prize page that all Mobile Stories schools have access to!
Please listen to journalists Jenny Ågren and Helena Tru's tips (recorded in connection with the Young Journalism Prize 2020):
Aftonbladet's Jenny Ågren: How to succeed with the podcast!
Students who want to publish their articles can become part of the Young Voices for Tolerance campaign and be spread on social media with the hashtag #YoungVoicesforTolerance. In the figure below, students can be helped to think about recipients and how to increase their chances of reaching out.Download it here: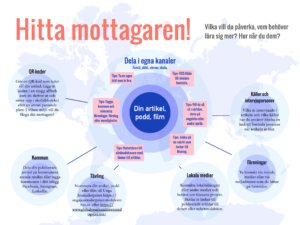 Reflection
Suggestions for reflection questions:
What have we learned from the visit?

What did we learn by doing a report on the visit?

Has your view of the Holocaust changed? How?